Made with fresh, healthy and kid-friendly ingredients, this easy strawberry banana smoothie is sure to be a family hit! The sweetness of the strawberries paired with creamy yogurt and banana, makes the perfect smoothie without having to add additional sugar or sweetener. With only 4 ingredients, this smoothie is picky-eater approved!
Why You'll Love this Smoothie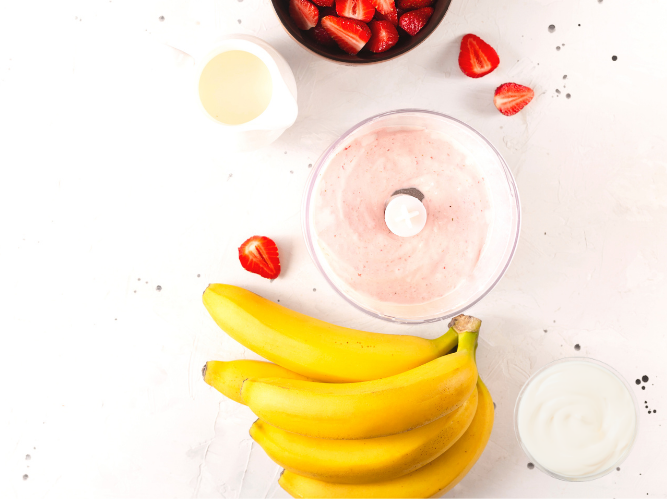 Quick & Easy
You know we love convenience here at Mason Bottle and this recipe is no different! From prep to pour, it only takes about 5 minutes, which means this is perfect to blend up for a pre-nap snack or a quick cool down after a busy day at the park without having to spend too much time in the kitchen.
Put yogurt and milk in the blender before fruit, we have found this helps the fruit blend easier and smoother.

Hide some veggies! Kale, avocado, carrot, and spinach all blend up great and add nutrients!

If you don't have frozen bananas, add 1/2c of crushed ice to the blender prior to blending.

Need to make it dairy free? Use almond, oat, cashew or any other milk alternative, including breastmilk!

If your smoothie is too thin, add a few more chunks of frozen banana

If your smoothie is too thick, gradually add more milk until it reaches a drinkable consistency.

Have extra? Leave a little headroom and freeze in an 8oz mason jar and one of our single piece storage lids.